Academy Board Member leads Home Depot in $50M trades training project
A participant in the first cohort of Fellows, and now a member of the Board for the Academy for Systems Change, Stacey Tank is the Vice President of Corporate Communications and External Affairs at Home Depot. At the end of last week, Stacey and her team formally announced Home Depot's $50 million commitment to training 20,000 skilled trades people over the next 10 years.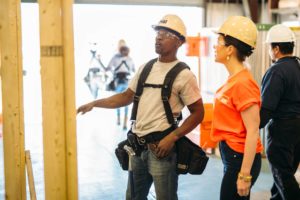 The Home Depot Foundation will partner with the non-profit Home Builders Institute to train veterans and U.S. Army soldiers who will soon be returning to civilian life as well as disadvantaged youth. It's about supporting the trades and effectively bringing shop class back from coast-to-coast. You can read the full story at USA Today.
Having completed the formal Fellowship with the Academy in 2017, and then taking up a position on the Board of Directors shortly afterwards, Stacey recognizes the value of the Academy community in helping her and her team reach this monumental achievement:
"This was a tiny kernel of an idea that I wrote down during my first week at Home Depot three years ago. Through the tools of the Academy for Systems Change and collaboration with my team and many others, the seed has blossomed. We wrote a business plan, shook the couch cushions upside-down and found $50 million – MIRACLE!"
Following Stacey's experience as an Academy Fellow, she nominated her colleague, John Ellington, to participate in the second cohort of the Academy Fellowship Program. He is now a Fellow of the second cohort and, as Director of Finance and Grants Administration for The Home Depot Foundation, John was also instrumental in the actualization of this $50M donation from Home Depot.
"Thanks to each and every one of the Academy community for co-creating a field powerful enough to hold this work. This is the work of the Academy. It belongs to all of us." – Stacey Tank