An Ecology Project International adventure
Academy Fellow, Scott Pankratz, is the Executive Director and Co-founder of Montana-based non-profit Ecology Project International (EPI). In this blog, Academy Co-Founder and Faculty member, Charles Holmes, shares his experiences following a recent visit to EPI's head office in Costa Rica.
I have always had the greatest respect and admiration for Scott Pankratz, and had no doubt that he (along with his wife Julie) had created something truly special with EPI. However, no amount of imagining could have prepared me and my 17-year-old daughter for the direct experience of EPI. Meeting people, whose lives this non-profit has impacted, is an inspiration and powerful example of one couple's vision to create an organization that is making a profound difference for 1000's of people, and for our precious planet.
EPI's Costa Rica office is nestled in the Heredia Mountains on the outskirts of San Jose, a beautiful oasis and welcome escape from the hustle and bustle of the city. The staff (a team of 12) have created a welcoming home that comfortably accommodates 20+. And – wow! – talk about an awesome group of passionate, thoughtful, bright and committed folks. I led a workshop on my first morning there for the whole team, exploring and practicing dialogue tools and a couple of frameworks, and they were an absolute joy to work with.
After the workshop, we left Heredia for the 3-hour drive west to the coast. On our way, we stopped and visited one of the schools that EPI works with (for those of you not familiar with EPI's model, 70% of their participants are local residents of their project sites). At the school, we meet two grade 11 students, Isaac and Jeremiah, and their science teacher. Both of the boys lit up when recounting their experience at Pacuare Reserve, describing how their experience with EPI has ignited a life-long interest and passion for science and conservation. We also learned from their teacher about the EPI science fair that brings together 400+ students every year to compete in a unique, multi-disciplinary science fair (e.g. Isaac created a sound track, depicting his EPI experience with the leather back turtles and performed it on clarinet at this event).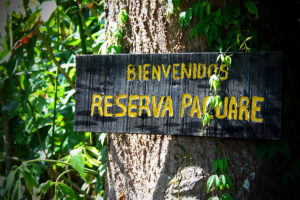 It was particularly inspiring hearing about the passion the two boys had for Pacuare Reserve seeing as it was this reserve – a 2500-acre coastal rainforest reserve, established in 1989 by the Endangered Wildlife Trust – that was the location where it all started for Scott and Julie. How appropriate that 16 years later the Founder and Board of the Trust choose EPI to take over operations as the stewards of this incredible property!
A few points to note about the Reserve:
12+ research assistants live on site at the reserve for 8 months and work with EPI instructors (2 per visiting class), the students and their teachers.
The population of birds and wildlife is extraordinary!
The beach is part of one of the 4th most important leatherback sea turtle nesting beaches in the world.
The 6km beach is "patrolled" by students, research assistants and EPI instructors, every night from 8pm – 4am during nesting season. My daughter Jasmine and I were blessed to have the opportunity to be on a patrol that worked with two enormous leather back turtles (counted eggs, tagged and measured)! Wow!! Amazing experience.
One of the teachers, who was visiting the reserve with her students while we were there, had "discovered" EPI online and last year went to the Galapagos. She raved about her learnings as a teacher, and about the profound impact on the students, their families and the school. She is now an "EPI Lifer"!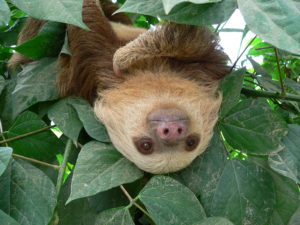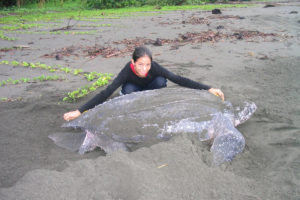 Scott has always said that you can't fully appreciate EPI until you experience EPI and I am so grateful he encouraged me to have this direct experience! It is so much clearer to me now how Scott and his amazing team are making a profound impact for 1000's. It is truly awesome. I am filled with gratitude towards Scott and the passionate folk at EPI, for their contribution to my and my daughters learning and growth, and for the inspiring and important work they are doing in the world.
To learn more about EPI, and options for seeing their systems change work first hand, take a look at their website, or reach out to Academy Fellow Scott Pankratz.