Systems Thinking in Action: Notes from Magdalena Bay
Ecology Project International (EPI) is a partner of the Academy for Systems Change. This guest post is written by EPI Magdalena Bay Teacher, Fiona Hall, and can also be read on the EPI website.
Ecology Project International (EPI) takes great pride in its ability to involve many stakeholders in conservation issues and in doing so, collaborates with other like-minded organizations to further the development of education and conservation. Through my interactions with EPI, Red Travel Mexico and Grupo Tortuguero one thing became glaringly evident: conservation (in any capacity) has many more layers to it than meets the eye. As both a geography and science teacher, Ecology Project International and its partners have shown me that successful conservation must take the time to consider each issue that factors into the ecosystem it's trying to protect. As ecosystems are extremely complex, so must be the solutions to their protection. To have a lasting impact, successful conservationists must be systems thinkers. They must look at gaps or weaknesses in the ecosystem, examine the causes of the disruption and then dig deeper, exploring all human and environmental factors at play.
Conservationists must look critically at ecosystems in their entirety, through a lense free of judgement, personal bias and assumptions. They must remember that people (and communities) are doing the best they can with the resources they have. In order to preserve ecological integrity, human and natural systems must be functioning at their best. When we notice a break in the ecological integrity of an ecosystem (such as species decline), we must look at the root cause of the human factors that are causing the break in order to properly address the issue. Education and financial security are often important factors that need considering in order to support conservation efforts. For example, if a species is in decline due to poaching, simply putting stronger restrictions on poaching without providing alternative sources of income for those communities is not a sustainable solution. Long-term sustainability of ecosystems requires complex solutions that address direct and indirect gaps that can only be found through a thorough, collaborative and unbiased investigation.
A Systems Thinking Exemplar: Green Turtle Conservation in Magdalena Bay
As I came to understand the visions of the organizations I was working with throughout the week, I felt as though I was live-streaming a case study from a grade 9 geography textbook. In theory, the concept of collaborating with all stakeholders of an ecosystem (including local communities, research scientists, government policy makers, etc.) makes for a great classroom activity but I had yet to witness a living example of this level of collaboration. EPI, RED Travel Mexico and Grupo Tortuguero really impressed me with their systems-thinking approach to conservation of green turtles.
Magdalena Bay is home to many green sea turtles – which has also attracted a lot of poaching by fisherman living in small fishing villages around the area. I was moved by the stories of local fisherman who had been educated about turtle conservation, volunteered their experience to collect data and found alternative sources of income as they moved away from turtle poaching. One such fisherman, Jose Hernandes (affectionately known as Don Jose) kindly took time to show us the proper methods of green turtle data collection and after 8 hours on the water (and 5 turtles later) it was evident the amount of volunteer hours he has dedicated to this project. A strong man of few words, Don Jose's evident passion for this work, his care with the turtles and patience teaching us assured me all those involved in this conservation effort had been considered.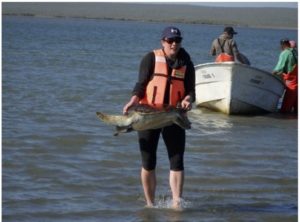 Physically interacting with the wildlife of Magdalena Bay was a true thrill, and an unforgettable experience. The long-term lessons for me from EPI's fellowship were the realization of thorough detail and care that must be mapped out when undertaking any sort of conservation project.
As a teacher, I will use these experiences to encourage my students to think broadly and critically about the interconnectedness of our planet.