Focus on a Fellow: Stephanie Daniels
Through our Academy Fellowship program, we work with an extraordinary group of accomplished systems change leaders, each working to inspire and demonstrate ecological, social, economic, and spiritual well-being within themselves and for the communities, organizations, and networks that they serve. In this Focus on a Fellow, Madison Sabol, the Academy's Summer Intern, interviews Stephanie Daniels (pictured above, left) on her work with the Sustainable Food Lab and her time as an Academy Fellow for the past three years. Stephanie serves as the Senior Program Director of the Agriculture and Development program at the Sustainable Food Lab based in Hartland, Vermont.
The Sustainable Food Lab aims to "facilitate learning between different actors in a system." Their work "focuses on challenges that cannot be solved by one actor alone, that need some sort of collaboration between parts of a system."
At the Sustainable Food Lab, Stephanie's work in the agriculture and development thematic thread concentrates on "value chains that are primarily made up of small scale farmers in emerging economies." She works with "farmers and value chains that face challenges of poor infrastructure, high poverty levels, threats and vulnerability to climatic and weather events, low levels of literacy," and other social, economic, and/or environmental challenges. Some of these systemic challenges can be linked to the sourcing programs of food companies. The Food Lab focuses more on market driven solutions within the food trade, rather than government policy as  a lever of change. In addition, the Food Lab's interests span from small- to large-scale farmers. Most of Stephanie's work is in value chains dependent on small-scale farmers.
Prior to becoming an Academy Fellow, Stephanie and Hal Hamilton, Co-Director of the Sustainable Food Lab and one of the Academy's Founding Board Members, developed a project to engage the private sector in helping small farmers adapt to climate change. Stephanie carried this project into her Fellowship with the Academy shortly thereafter.
Through this project, the Sustainable Food Lab conducted a series of interviews and helped some of their partners plan a learning journey for a four-country region consisting of Nicaragua, Honduras, Guatemala and El Salvador. The countries are home to smallholder cocoa farmers that experience similar biomes, similar market conditions, and similar challenges. There is a great opportunity to learn from one anothe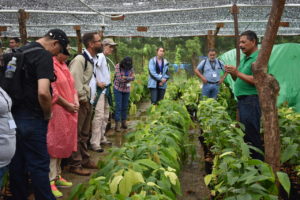 r. The learning journey, a three-day collaborative event "based on a cocoa production and marketing model in Honduras," sought to closely examine "what [they] know about the cocoa status today, what are the threats facing this sector, and how [they] would collaborate, moving forward as a region, to increase the ability to adapt to climate change." As a result, they identified a few work streams that the regional actors are now using to develop a strategy meant to equip themselves with the ability to adapt to climate change.
Since becoming an Academy Fellow, Stephanie expressed that she has grown both professionally and personally. The Academy has helped her "to understand how to be a better facilitator of the relationships within this large consortium, working in three countries with many different organizations." In some of these systems, Stephanie knows the actors and has good relationships with those individuals, but in others, she doesn't know the actors. As a result, she has to navigate her role as a facilitator differently. Stephanie said that through her time with the Academy, she has learned how to answer questions like, "how do I both understand the actors and set up a container that has clear goals and desired outcomes and moves a group of actors toward clarity?" The Academy has given her the tools to work better with people and to define better the desired outcomes for meetings and events.
On a more personal level, Stephanie underwent a process of understanding how her particular strengths can be leadership qualities. For instance, Stephanie's natural abilities guide her towards supporting, listening, and connecting. Before her fellowship with the Academy, she didn't necessarily consider these qualities to be leadership characteristics. However, she's grown to see that there are many different types of leaders and that she can excel with her strengths.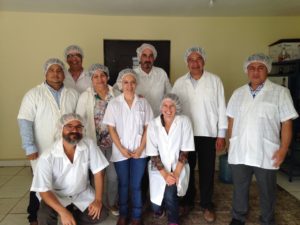 Additionally, Stephanie is better able to assess a situation with greater accuracy and less from her preconceptions and opinions. She can evaluate and work with the information she has. Her work with the Sustainable Food Lab tends to be more virtual, so "sometimes it's difficult to really assess what's going on on the ground…The Academy has helped [her] ask better questions. And to see [her] personal preconceptions and not necessarily hold them as true."
Before concluding her interview, Madison asked Stephanie if she had any advice for the next Cohort of Academy Fellows. She offered that Fellows should be clear about the challenges they face. It's important to ask the faculty that you're working with to help you clarify the challenges that you face so that you can better create a plan to achieve your goals, work through difficult periods, and evaluate the outcomes.
---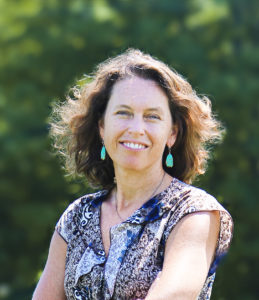 Stephanie holds a B.S Environmental Studies/Wildlife Biology from the University of Vermont, M.A. International Development from Clark University and a graduate certificate in Organizational Management from Boston College.
Images in article courtesy of Stephanie Daniels. Image above courtesy of the Sustainable Food Lab.