Focus on a Fellow: Udom Hongchatikul
Through our Academy Fellowship program, we work with an extraordinary group of accomplished systems change leaders, each working to inspire and demonstrate ecological, social, economic, and spiritual well-being within themselves and for the communities, organizations, and networks that they serve.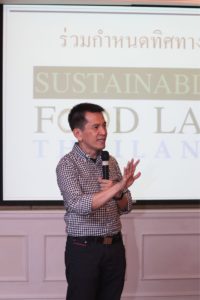 Udom Hongchatikul holds his PhD. in Organization Development from Assumption University of Thailand.  After 20 years working in different industries, small companies and large-listed corporations, he has now been an OD consultant for over 10 years.
Udom is currently leading a project called "Kon Kla Kuen Tin" (Only the Brave Return), which aims to increase the number of young farmers in Thailand and improve the country's food system.
Currently, the average age of a Thai Farmer is 58 years old. The young generations leave their home towns soon after graduation to find work in larger cities, such as Bangkok. This movement weakens the development of the local community, especially in the agricultural sector.
Kon Kla Kuen Tin is a reverse migration project that works with younger generations to show how they can live happily with their families, and become a role model or a change agent in their own communities. The project challenges existing mental-models that farming is too physically demanding with little financial compensation by proposing a new model of self-sufficiency for people to live healthily, sufficiently and sustainably from the agricultural lifestyle.
We start by acknowledging that change must start from within – with deep self-awareness. we start by identifying and discussing what each individual already has; their roots, and we work with them as they learn from a faring guru and practice-by-doing.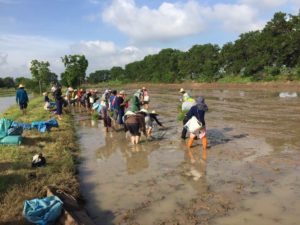 The Kon Kla Kuen Tin Project started in 2015, and has been training Kon Kla (The Brave), for three consecutive years. So far, the project has resulted in 2,128 individuals returning home to work in the fields of their hometowns. This reverse migration is adding value to the agricultural sector, as well as building the strength of local community culture.